Here's the personal imperative for me coming off the bench at this stage in my life and getting involved. Most Americans today aren't well grounded in the events of history and its tendency to repeat itself over time. Roughly one hundred and fifty years ago this nation was engaged in America's greatest tragedy, the American civil war. The abolishment of slavery, which would have happened anyway, wasn't the central issue starting that war. The primary issues were state's rights and the role of federal government. The federalists prevailed in that war, but at a terrible price of almost 700,000 lives and societal rifts that still exist today. Here's what the balance of power looked like in 1860 at the beginning of our last civil war—federalists are in both shades of blue and clearly had the largest critical mass: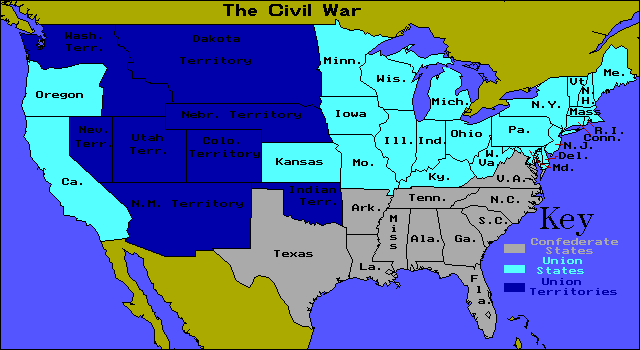 Source Wikipedia
Here's what the balance of power between state's rights and federalists looks like today—state rightists are in red—in 2011 they clearly having the largest critical mass. The balance has shifted: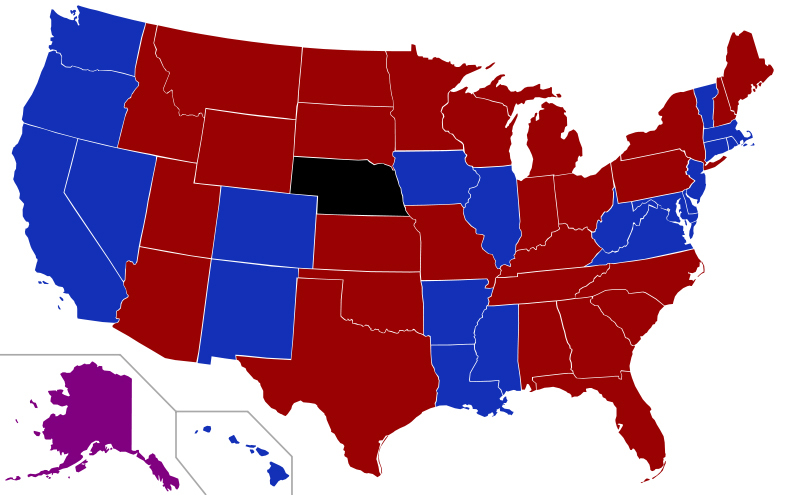 Source Wikipedia
Could another civil war happen in this country, in this modern age? Consider this. America's military might is vested in the National Guard—controlled, paid, and operated on a day-to-day basis in time of peace by the individual state governors and their legislatures. The rational for this organizational model when it was established two hundred years ago was that any invading foreign army would have to fight their way across an entire continent through every individual state. That's right—all those tank companies and fighter squadrons and infantry divisions that we deploy to places like Iraq and Afghanistan actually belong to the individual governors until the moment they're "federalized" for deployment—every governor has their own air force and army. The primary role of our 'regular' federal armed services is the training and support of these National Guard units. So, when I see the current map covered with all those red states pushing for more states rights, when we have the anti-government Tea Party sucking the oxygen out of every rational dialog about the issues and demonstrating willful ignorance at every opportunity, when all civility has disappeared from public debate and gotten really vile, when red governors are increasingly breaking rank with federal law, and the common masses are becoming increasingly restive and impatient for change…yes, I'm afraid for my country.
I can't blame the silent majority for not wanting to get involved in this mess; it ruins dinner parties, destroys friendships, and keeps husbands and wives from sharing the same bed. It stinks. But we've arrived at a very dangerous juncture as a nation. It's time for everyone to get off their butts and put their dogs into this fight. Who do I consider the silent majority? It's the centrists from both parties and independents of all ilk who are still capable of compromise and rational thought—those willing to collaborate on finding common ground. It's these people who need to form a coalition (third party?) that will get our country back on a track toward serving all of us, not just the rabid few. I don't think we should underestimate the potential for the current extremists to draw us into something very terrible. They've done it before…they'll do it again.